A lot of employers and employees have questions about sick leave and family leave. As far as the law goes, nothing has changed from normal as of yet. There is a bill in Congress that would make big changes for some employers, but it has only passed the House and has not yet been through the Senate. The name of the bill is the "Families First Coronavirus Response Act." We are recommending to our business clients that they monitor a reliable news source for developments with this bill, while we are doing the same. If it passes, we will post an update here. For the time being, employers are within their legal rights to follow the already existing laws and policies for sick leave and family leave. With that said, common sense and the greater good tell us that it is a good idea for employers who are still "open" to follow some basic good practices like these (which should be communicated to all employees):
Wash hands often with soap and water for a minimum of 20 seconds. If soap and water are unavailable, use an alcohol-based hand sanitizer.
Avoid touching your eyes, nose and mouth with unwashed hands.
Avoid close contact with people who are sick.
Stay home when you are sick. Contact your immediate supervisor to inform of absence.
Follow good respiratory hygiene (covering mouth and nose with bent elbow or tissue when coughing and sneezing).
Clean and disinfect frequently used objects and surfaces using a regular household cleaning spray or wipe.
After using the copy machine or any other "community" office equipment, please make certain it is cleaned with cleaning spray or disinfectant wipe.
Advise your immediate supervisor if you have been diagnosed with or have been exposed to the Coronavirus.
Take measures to ensure your offices are as well sanitized as possible.
Encourage customers to interact with you remotely, if possible.
On the topic of employee leave, news outlets are reporting that today the Senate passed the "Families First Coronavirus Response Act," with the president's signature expected very soon. The official website of Congress (congress.gov) has not confirmed this as of yet. For now, we are assuming that the news reports are correct and that employers will need to be ready to follow this new law. We are reviewing it now and are ready to provide guidance. 
A summary of some highlights:
Changes will not go into effect until 15 days after the law is enacted, so there is some time to prepare.
The law will require some employers to provide paid family leave related to COVID-19 (first 14 days are unpaid, but employees may use existing personal or sick time).
The law will require some employers to provide 2 weeks of paid sick leave for specific circumstances related to COVID-19.
The law will expire on December 31, 2020.
Employers with fewer than 50 employees might be exempted.
Fact Sheet - Changes to FMLA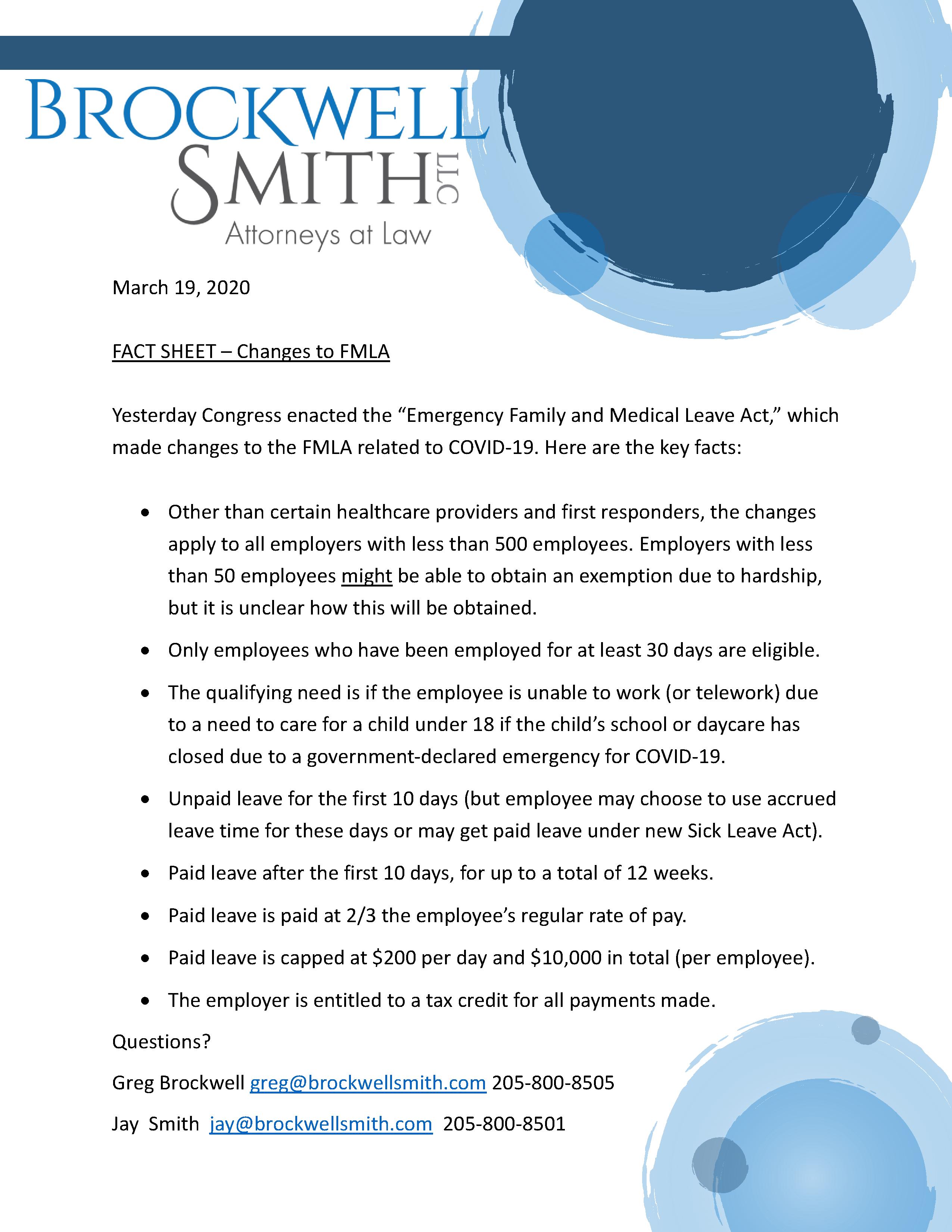 Fact Sheet - Changes to EPSLA